Teaching and Learning
The Early Years Foundation Stage (EYFS) framework, which we are required to follow, sets standards for the learning, development and care of children from birth to 5 years old and supports an integrated approach to early learning and care.
The learning and development requirements cover:
the areas of learning and development which must shape activities and experiences (educational programmes) for children in all early years settings
the early learning goals that providers must help children work towards
assessment arrangements for measuring progress
It should be noted that Ofsted does not have a preferred style or approach to teaching or play and leaves it to us, as early years practitioners, to make the important decisions about how our children learn. With regard to teaching, Ofsted says it
"is a broad term which covers the many different ways in which adults help young children learn. It includes their interactions with children during planned and child-initiated play and activities: communicating and modelling language, showing, explaining, demonstrating, exploring ideas, encouraging, questioning, recalling, providing a narrative for what they are doing, facilitating and setting challenges. It takes account of the equipment they provide and the attention to the physical environment as well as the structure and routines of the day that establish expectations. Integral to teaching is how practitioners assess what children know, understand and can do as well as take account of their interests and dispositions to learning (characteristics of effective learning), and use this information to plan children's next steps in learning and monitor their progress."
Inclusion
Our ethos of inclusion is central to who we are and what we do. We create a caring, friendly and nurturing environment where all children can thrive socially, personally and academically and we accommodate children from all backgrounds and with a variety of needs.
If a child has a disability or medical condition, we work with the family to ensure full access to the curriculum.
For children with special education needs or disabilities, we provide support - sometimes 1:1 - and nurture, to give the best possible start to their education, and we work closely with other specialists and support agencies to access all the support available. Early identification of needs and arranging appropriate interventions from the earliest stage will improve outcomes for children.
Our SEN policy is published on the policies page of this website.
Follow this link to read our SEND Information Report.
Assessment
The arrangements for assessing children's progress in the nursery are an intrinsic part of our obligations under the EYFS framework: through good observation, accurate assessment judgements can be made about children's needs and their stage of development
Assessment and Planning are inextricably linked and assessment plays an important part in helping both practitioners and parents to recognise children's progress, understand their needs, and to plan activities and support. Well-planned child initiated learning enables children to practise and refine taught skills and to further develop their understanding of new knowledge or concepts. We aim to close quickly any gaps in children's learning and development through effective discussion during the staff's weekly planning meetings, termly progress meetings and regular moderation activity.
Ongoing assessment (known as formative assessment) is an integral part of the learning and development process and we are looking to understand not only the children's achievements but also their particular interests and preferred learning styles. Our assessment information will usually be gathered from observation of children during their independent learning time but we also take opportunities to learn from parents about what the child does at home. We analyse the observations to decide what they tell us about a particular child and where he or she is in their learning journey. We use the information to plan 'what next' for the children and to shape learning experiences for each child reflecting our observations.
Tapestry
Much of what we learn is shared with parents through your child's online learning journal.
The key person will document your child's progress as she or he progresses throughout the Nursery School through an online learning journal called 'Tapestry'. At the beginning of your child's time at Nursery, you will be sent an email link to activate your online journal which will give you access to your child's observations, alongside the opportunity to comment on each entry and watch some videos of your child's learning. We value any additions to Tapestry of any exciting activities and adventures you might get up to at home, for example days out, special events or new milestones.
Each term, you will be invited to meet with the key person or the one of the qualified teachers to discuss progress and share strategies for supporting your child's learning.
You can access Tapestry through the App or by clicking on the logo below.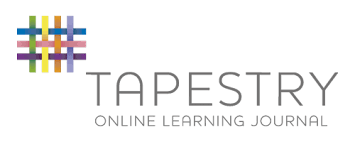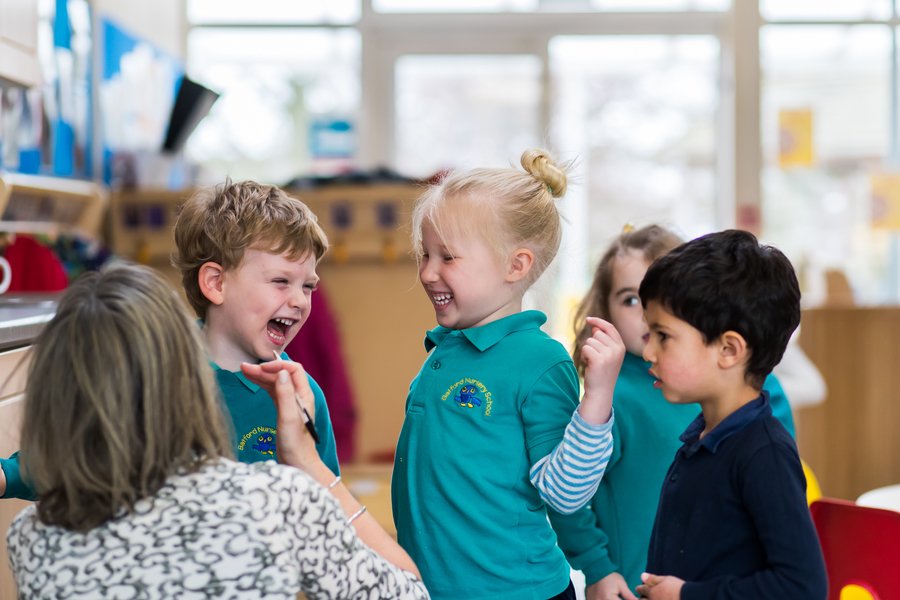 Communication and language development involves giving children opportunities to experience a rich language environment; to develop their confidence and skills in expressing themselves; and to speak and listen in a range of situations
There are three strands:
Listening and attention
Developing listening and attention skills
Understanding
Learning to understand the meaning of what is said.
Speaking
Learning to speak for different purposes and for different audiences and to use language as a medium
Ideas for parents and carers:
● Enjoy talking with your child, listening to them and asking questions.
● Rather than correcting inaccurate grammar or unclear speech, model the correct grammar back using a clear and encouraging tone to let him or her know you support their efforts.
● When children are learning language use short sentences and simple instructions, expanding as they develop.
● Sing and learn nursery rhymes and songs.
● Encourage your child to make up their own stories, songs and rhymes.
● Through talk, extend their vocabulary.
● Encourage your child to listen and take turns in conversations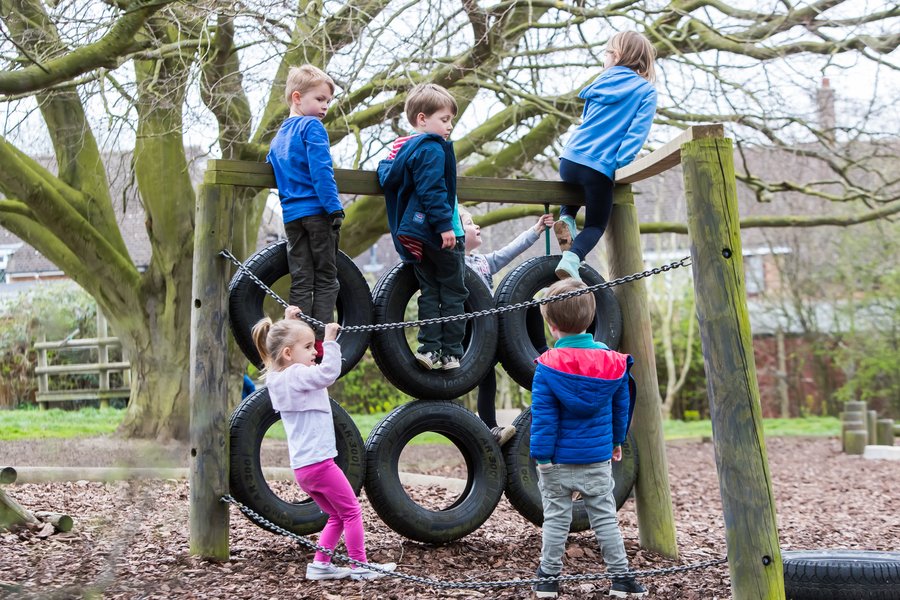 Physical development involves providing opportunities for young children to be active and interactive; and to develop their co-ordination, control, and movement. Children must also be helped to understand the importance of physical activity, and to make healthy choices in relation to food, hygiene, rest and activity. We teach children to use all of their senses to learn about their world.
Physical development is divided into two strands:
Moving and Handling Improving control. Co-ordination, manipulation and movement
Health and self-care Learning about how physical activity and healthy choices promotes health and well-being
Ideas for parents and carers
● Developing gross motor skills
● Children love to visit play parks where they can climb, swing, run and jump.
● Where possible try to walk instead of travelling by car.
● If you can, walk to nursery rather than using a pushchair.
● If you have an outdoor space or garden go outside whatever the weather to enjoy the fresh air.
● Encourage your child to try to dress and undress themselves.
● Encourage them to put on and do up their coat and shoes.
● Teach them the importance of hygiene by expecting them to wash their hands before meals and after toileting.
● Encourage child to become independent in toileting skills.
● Whilst eating together talk about healthy foods and drinks and encourage a healthy diet.
● Activities to promote fine motor skills and finger strength
● Pick up and sort objects such as coins, cards and blocks.
● Screw and unscrew objects such as nuts, bolts, jar lids.
● Roll and work playdough
● Helping with cooking activities, stirring chopping and rolling.
● String beads on to laces.
● Learn to use scissors, initially by snipping into the edge of paper or card and eventually cutting around a shape. Old greetings cards are an ideal weight.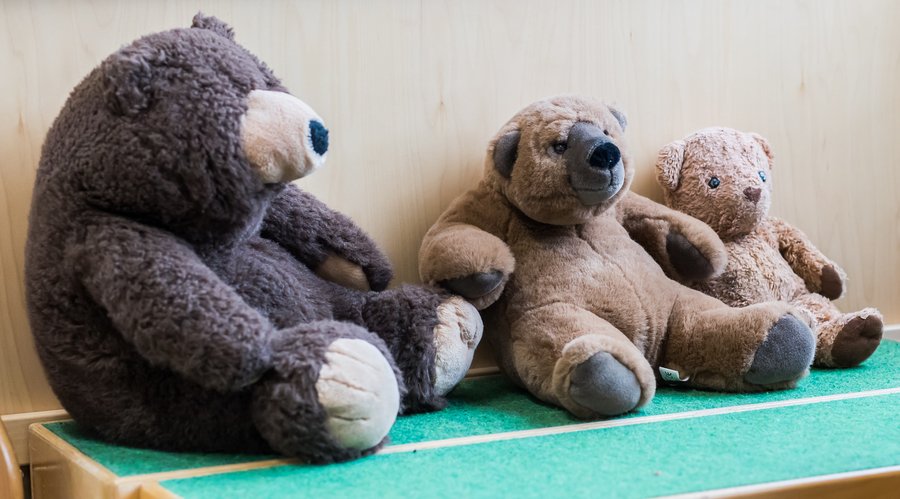 Personal, social and emotional development involves helping children to develop a positive sense of themselves, and others; to form positive relationships and develop respect for others; to develop social skills and learn how to manage their feelings; to understand appropriate behaviour in groups; and to have confidence in their own abilities
The three strands of PSED are:
Making relationships Developing a positive sense of themselves and others
Self confidence and self-awareness Developing social skills, respecting others and having a positive disposition to learn.
Management of feelings and behaviour Developing emotional well-being, helping children to know themselves and what they can do.
Ideas for parents and carers



Enjoy the time with your child, take time to talk and listen to them.




Children love routines. Support them in learning about expectations, acceptable behaviour and boundaries.




Encourage your child to help tidy up and to care about their surroundings. They can help to put away their toys, put the shopping in the trolley or sort the washing.




Teach and expect good manners and politeness.




Playing games helps them to understand rules and turn taking.




Teaching children to respect others and to be kind and fair.




Celebrate together their success and achievements, however small.



The specific areas
The three prime areas are strengthened and applied in four Specific Areas - these are:
literacy
mathematics
understanding the world
expressive arts and design